Dublin Independent Living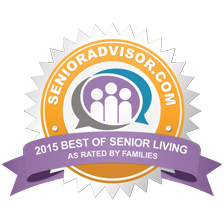 Welcome to Dublin Retirement Village
Here in Dublin, we like to say "Irish is an attitude." Our city is distinguished by attractions (1,000 acres of parkland), leisure activities (Dublin Irish Festival), and all things Irish. Surrounding the Scioto River, in the northwest area of metropolitan Columbus, Dublin is minutes from Ohio's Capital City and is home to seniors who truly embrace active lifestyles.
At Senior Star at Dublin Retirement Village, our Dublin independent living retirement community was designed to complement the beauty of the surrounding city. Situated on a nature preserve with a meandering creek, Dublin Retirement Village offers individual and community patios for an outdoor retreat. We also have a picnic gazebo next to a scenic pond. Residents say it is the perfect spot for nature watching or coming together with family and friends.
Our community is filled with residents who are proud to call Dublin home and who engage every day in activities that are meaningful in their desires to continue living vibrant lifestyles—with that Irish attitude. Important to residents are the variety of cultural and educational programming offered at the community. From current events discussions to laughter yoga, off-site excursions to art classes and history lessons, there are daily opportunities to inspire every resident to continue living, loving and experiencing life.
Dublin Retirement Village is professionally landscaped and decorated to create a warm, inviting place for each resident to live; however, we understand there is much more than ambiance to creating a vibrant living community. Ultimately, it's about getting to know each resident and understanding their unique individual needs. Achieving this goal sets the stage for providing superior hospitality and customer service that exceeds the expectations of residents, their family members and guests.
Our services and amenities complement our timeless living spaces. They are designed for the ultimate in service and convenience:
A full-service salon offers the very best in hair styling, nail care, massages and facials to help you look your best.
Our Fitness Center offers safe, senior-friendly exercise equipment – including ShapeMaster ™ cardio machines and a variety of customized fitness classes.
Our team of culinary experts oversees our dining experiences, so you can grab a quick bite on the go, relish dinner with friends in the main dining room, or enjoy the ambiance of private dining.
Ample parking with valet is available and scheduled transportation with a personal driver take the hassle out of running errands.
Our pet policy allows for small dogs and cats
Need something? Our front desk concierge is ready to arrange it for you!
We deliver all of this within a culture of personalized service, led by an experienced and caring staff that puts resident centered care as top priority. It would be our pleasure to welcome you to Senior Star at Dublin Retirement Village. Let us show you how we define Dublin area senior living. Call us today at 614-602-6274.